My aunt's magnificent "fun" tree - about half as big as the "fancy" tree.
Christmas day is always over far too quickly. Yet, it's so much different than when I was young. As a kid, everything is over fast because it's a whirlwind of wrapping paper and piles of presents; I would rush and weed through gifts with excitement to see my final hoard. Now, though, there's a clear point during the morning-of that signifies the holidays have peaked. For me, it's just after the first present is opened. Presents, while lovely and always fun to open, aren't the highlight of Christmas anymore. It's the wrapping of presents for family and friends; the anticipation of getting items I've yearned for -- and, just maybe, some surprises; the feeling of wandering from my bedroom on the morning of December 25, with dreary eyes from lack of sleep, and pouring my first cup of coffee...
Nothing tastes quite like the first cup of coffee on Christmas morning. The salty smell of bacon and the delectable sweetness of scones warrant a mention as well.
Presents are opened slowly now. They're savored. My family -- sister, father, mother and, now, my boyfriend -- linger together around our lovely, fake fir tree and give each present the attention it deserves. My sister, per tradition, plays the Christmas elf (a job she once hated but now enthusiastically embraces) and delivers presents to everyone. One by one, moving clockwise around the room, every gift gets displayed upon its reveal. We 'ouu' and we 'aww', where appropriate. We're always on our best behavior on Christmas morning.
We may be just five people, but this process can last for hours. Never long enough, in my opinion. And looking out on the thoughtful treasures I've received, I'm honestly speechless at the generosity of my family and friends.
Florence + the Machine's "Ceremonials" on vinyl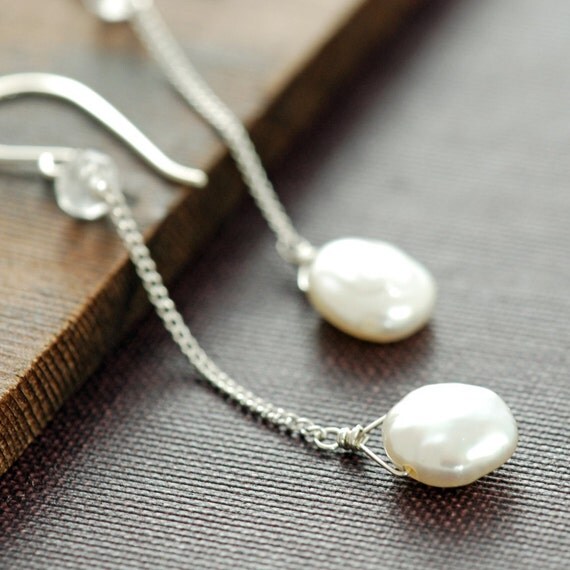 Pearl earrings by Aubepine via Etsy
I'm not going to say I don't love getting presents -- I'd be lying through my teeth. But each year, the experience of opening each item alongside the ones I love outweighs the final collection of gifts. Every time.
I'm blessed in so many, immeasurable ways.
The holidays are drawing to a close now, and soon there will be resolutions to uphold. Work will begin again in full force and this feeling of ease and relaxation will fade away. I'm actually excited about the start of the new year and things getting back to normal, however. The holidays, while wonderful, tend to be highlighted by lethargy and a shocking ability to overeat.
More than anything, though, I must say I'm grateful for this opportunity to have Christmas with my whole family while also living in my home. For the last several years, Seattle has been Home to me, and seeing my family meant long days of travel and/or leaving my dogs behind -- then, of course, having to leave and make it back for work. This time, all were in one place and it filled me with such joy that I never wanted it to end.
And yet... I can't help but smile at the thought of where we might be rooted next year. The uncertainty is rather exciting.
But rest assured: I'll wake up cuddling with this puppy, under my smooshy, Anthropologie comforter, no matter where I'm living.
So how about you? What was your Christmas morning like? Was it quiet with just your immediate family, or was the house packed full? Did you get anything that surprised you, or did your family use Amazon Wishlists like mine did?